Inner Refuge is a team of producers, artists, and collaborators who each contribute their own unique disciplines and talents. We partner with leading artists and musicians to bring dreams and visions to life and bring fantasies to reality.
It brings joy to each member of our team to collaborate together, to create freely without boundaries, and ultimately contribute to a higher cause.
María Sánchez is an entrepreneur and event curator based between Barcelona and Tulum, Co founder of the secret gathering Sacbe (Tulum) and MyOrganic (Ibiza). Works as a freelance event planner for different clients around the world with the objective of creating hand crafted experiences and to bring a higher level of consciousness into each project.
Made in Mexico City. Proud of my culture and my country. Communicator, interested in Global and media communication. Producer of Scenic Arts, Actor of Profession. Aries. Birth Leader, enrolled in various social projects, LGBTTQQI inclusion of sexual diversity in Mexico City. Lover of the arts, music and sports.
LOVER OF BEAUTY. LIFE. and Believer of Love...
Born French but grew up in Africa and Vietnam, she travelled the world in her parents' suitcase, from this she nurtured the nomadic lifestyle philosophy. She has a solid professional experience in the Consulting Industry in Organization and Large Scale Projects Management. In her personal life, her urge to walk on the path of self-development and conscious alignment brought her to use her professional skills to build bridges that gather people and communities around a common vision and meaningful immersive experiences. Charity, giving back, creativity and consciousness are some of the deepest values she identifies with. Her deepest purpose is to join forces with those dedicated to living awake, in service of transformative projects for others to share with others.
Is an Italian accomplished explorer, currently based in Hong Kong, constantly traveling between the Orient and the west. He strives to share his vision and passion with the others, from technology, to fashion, to photography, to music.
He has immersed himself in the learning and practice of Hatha Yoga through more than seven different yoga systems, including Kundalini, Ashtanga and Sivananda. Has also explored practices like Zhineng Qigong and Daoist Qigong, where he learned the language of Energy.

He travels the world following the call of the Way as a student, of the Path sometimes taking the role of the teacher sharing his heart in master classes, teacher trainings, gatherings immersions and retreats. Other times just praying and dancing with the spirits of Nature in ritual, ceremony and just flowing.

Humbleness is the light that guides the teacher.
Elemental guardian of our Mother Earth.
He was born in Nicaragua (Nicanahutl) a land of indigenous poets.
In this dance of cosmic poetry we call Life, he is unconditionally committed to the respect of the prayer from our being to the universe. Ariel is a globetrotter dedicated to the value of our indigenous traditions and our human tribe in one heart to the sacredness of life and our planet .
At the age of fifteen, she started her initiation to the Mexican traditions with her spiritual grandmother who shared her knowledge of the Temazkali (traditional sweat lodges), Aztec dance, sacred medicine and codes, indigenous chants, New and Full Moon Women circles, among others.
As an architect she developed her own landscape concept that pursues biodiversity, sustainability, nutrition and culture.
She is part of the Seed-sowing Women Movement (France), and continues her involvement in projects supporting the conservation and reproduction of GMO free seeds.
Raio (Rob Weber) is a producer, musician and DJ who's been holding it down for the tribe in Bali for the last 11 years. An eco-community steward and founder of the BaliSpirit Festival, Raio has played a key role in the evolution of the conscious scene on the island.
He's a resident DJ for the legendary ecstatic dances at the Yoga Barn in Ubud, where he also leads sacred cacao ceremonies, kirtans, and sound healing journeys, and produces music in a mystic jungle studio.
Was born and raised in a temple home in the Netherlands where mantra and sacred song where an integral part of growing up. Having a great passion for dance and theater, Reggie has been performing and sharing from the young age of 4. She followed the calling of her Heart to travel the world, ending up in Kenia, Africa at age 17, where she fell in love with the simple and potent joy of singing together. Ever since, she has devoted her time to Song and Storytelling turning her into an active member of the co-creation of a new era rooted in love and equality. Voice activation workshops, weekly singing circles, private sessions and embodiment arts, are some of the practices that bring to Reggie the greatest joy.

is passionate about the nervous systems of the bodymind. She systematically rebuilt and revived each system in her own body, following a devastating brain injury. Jo uses a wide range of tools from Cranial Sacral Unwinding, Human Tuning and facial manipulation to nutrition, Medical Qi Gong and Meditation to help people to regain the balance needed to live a full and creative life.
is a Chilean Musician, multi-instrumentalist, composer, producer, founder of several bands in Chile, like Koradub among others.
He studied classical mandinge music in europe and latin percussion in Chile, he collaborates with different, national and international bands recording and producing, like Matanza, Pachamantra, Tianobless among others.
Is an ecstatic dance DJ, Kundalini Yoga teacher and visual artist. Originally from Singapore, she followed synchronicity and her heart's calling to Bali, where she now resides and thrives alongside her beloved, Raio. Sophie's DJ sets are all profoundly uplifting journeys featuring ethnic melodies, tribal rhythms, lush downtempo grooves and a refreshing feminine vibe.
Along her career as an international model, Miriam became aware of her dream of creating a community. Through her newly founded company Mirabea, Miriam hopes to connect people in a meaningful way and inspire them to live mindfully.
Miriam's passion for holistic health has led her to attain her Kundalini Yoga Teacher certification at Hari Treehouse NYC. Miriam is also a certified health coach through the Integrative School of Nutrition.
She leads classes at Hari Treehouse NYC and hosts special retreat experiences and workshops with private clients around the world.
Fahad Khan, M.D. believes that a life of vitality is possible when modern medicine is blended with ancient & holistic therapies.
That's why he is dedicated to optimizing health by harnessing the power of acupuncture, yoga, and meditation coupled with the most cutting edge advances in modern medicine.
Dr. Khan is a double board certified Anesthesiologist and Pain Medicine specialist who trained at the Johns Hopkins University, New York University School of Medicine, and Harvard Medical School. He holds three graduate degrees in Evidence Based Medicine and has dove deep into professional study of the Eastern healing arts.
He treats back pain, insomnia, and stress by prescribing medication or mantra, administering injections or asana, and conducting delicate surgery or energy work.
Musician, composer and director of scenic arts. He has devoted most of his life to researching different cultures and learning their spiritual musical language to take them to their different creations focused on the development of the new tribe.
Creator of different bands of ethnic fusion and director of a circus company call Aborigen Circo !
He has deeply studied African music and percussion, as well as the different winds of the world.
Director of cultural space in chile called casa arbol and organisational coach with the atroposophical vision.
"La clave es el espíritu del equipo y el amor"
Actress, storyteller, scenic researcher and performer, dubbing voice actress. She has explored different ways of voice, body's languages, root dances and communication to apply in stories, actings, children's theater and performances.
Joy is an MIT-trained architect with a track record of having built the world's most expensive homes, an artist in the arts of calligraphy, painting, and film, a certified AcroYoga teacher, Jivamukti teacher, Flyoga teacher, as well as a Journey Practitioner (trained in NLP and hands-on bodywork) and a self-taught kimono
maker and designer. Draped in her kimono, Joy loves dancing, flying, juicing, and sunbathing.
Ana Rifa is a Transmedia Artist, Designer and Culinary Alchemist.
Her work underscores the process of thinking through making and culminates at the intersection between media, body and mind. Ana garnishes inspiration from a wide spectrum of craft and experimental research.
She co-founded Fish Fry Co. with Paola Menchelli; an integral design studio in Mexico City (graphic/print, audio, industrial and web design) after completing her degree in Graphic Design from the Universidad Iberoamericana in Mexico City. She relocated to the Golden State to earn an MFA in Media Design at Art Center College of Design in Pasadena. Ana had an Art Center College scholarship (2008-2011), gained a position as a TA for Prof. Norman Klein and as a Research Assistant to Ingrid Hora and Daniel Salomon. She also led a series of events in Mexico City promoting emerging artists in the music and fine art field such as Jalowana and the early days of Mexican Curious. She ventured into the world of internet radio with the show "Wac Corporal" which aired for 2 years in radioglobal.org. She's a singer, songwriter and performer for the project Teknolele. She has exhibited artwork and painted murals throughout Mexico and in the USA, where she also provides private dining experiences.
She executes artwork for the record label Crosstown Rebels and is the art director of Day Zero Festival in Tulum. She art directed "The Odyssey" stage for Get Lost at Electric Daisy Carnival 2013. She's worked with Circus Records (Yousef), Coco Morier (INGRD, Sweden) JAN (One Armed Man, NY) and other artists, designers and clients such as USC, Pulse Australia, La Excéntrica, Villa Mercedes Petit Hotel, Chilakillers, SHIFT ministries etc.
Helia's work is a direct reflection of her imagination. She has the creative ability to form images by channeling the sensations of her mind and the input of her senses. Born and raised in Tehran, Iran, she was exposed to lush and intricate Persian art all her life, from the colorful carpet patterns, to the sacred geometric tile work of the mosques. While this upbringing inspired her with classic Persian art, it also taught her the challenges of being a female artist in Middle East.
While in Iran she practiced painting, sculpting, calligraphy, and photography, and earned her degree in communicational arts from the Avini Art School in Tehran. After moving to Los Angeles she continued her studies at the Art Center College of Design, and the California State University Northridge. Her work was rewarded with several academic scholarships, and she was the Gold Award winner of the 2015 "Graphis Annual Poster Competition". After graduating she became the Art Director at Petrol Advertising, and worked with various organizations and clients such as ESPN, SONY, Activision, Xbox, and PlayStation. Today her main focus is creative direction and visual identity design. Her recent partnership with Sol Selectas Records has allowed her to create visual journeys, telling the mystical stories of the music through her art.
Moral Turgeman is an interdisciplinary artist whose creations come alive through user interaction. Her efforts in immersion draw the viewer into the totality of experience.
The multi-faceted artist creates larger than life installations that generally house various custom fabricated components. Her meticulous and interactive creations are driven by a distinct nature to assimilate. As a touring artist Moral explores different realms of creativity by engaging with new mediums throughout every step of her journey. Whether you play a role in a recurring concept or commission her for a customized site-specific installation, expect to be led on a multi-sensory journey set with purpose and intention.
Born in México City. Artist + Social Worker.
I graduated of the Bachelor of Arts with a concentration in Socio-Cultural Studies and Anthropology.
I've taken part in organizations that look for sustainability, human rights, social equity and gender equality in several parts of México, Ghana, Kenya and India. Of equal way, I am creating projects that affect positively in social development from the point of view of arts and culture.
My artistic production is based on the transmission of these ideas in a conceptual way, working with different media, from photography, to art direction, to writing, to illustration etc.
At present I count with two individual exhibitions of my work in documentary photography of the ethnic group Huichol: Wirrárika: The one who lives in honor of its ancestors.
RATIONAL & RADICAL, INTIMATE YET IRONIC.
Olivia Steele's works juxtapose some of today's most striking social ambiguities in the form they choose and the message they convey. Born in Nashville, Tennessee, in 1985, Steele uses neon, video and listed building facades to create her double entendres – based on select references that jar the viewer beyond the everyday. On a symbolic level, the results she produces are both iconic and personal. The reactions her works provoke are equally ambivalent: humorous and irritating. One thing they do not do, however, is leave the viewer indifferent. True to her belief that "CONTRAST IS THE GREATEST TEACHER."
His initial interest in the abstract dynamics of light and music led him into studying Physics and Art History and composing music for contemporary dance and also performing as a musician in rock bands with original music until the day he discovered the first programmable digital color changing LED light systems. He then quit his current job as a musician and audio engineer and started a career as a lighting designer focusing on LED lighting control and show programming. Due to the fact that the technology was too new to be learned anywhere near, he had to self-taught himself into learning light programming. Twelve years later, he produced his first art installation in which the focus is on light programming. As of today, he mainly works in permanent installation projects for art and architectural lighting. He has worked for artists such as Kurt Hentschlager, Anti VJ and James Turrell. He currently lives and works in Mexuci City. (Mexico, 1977)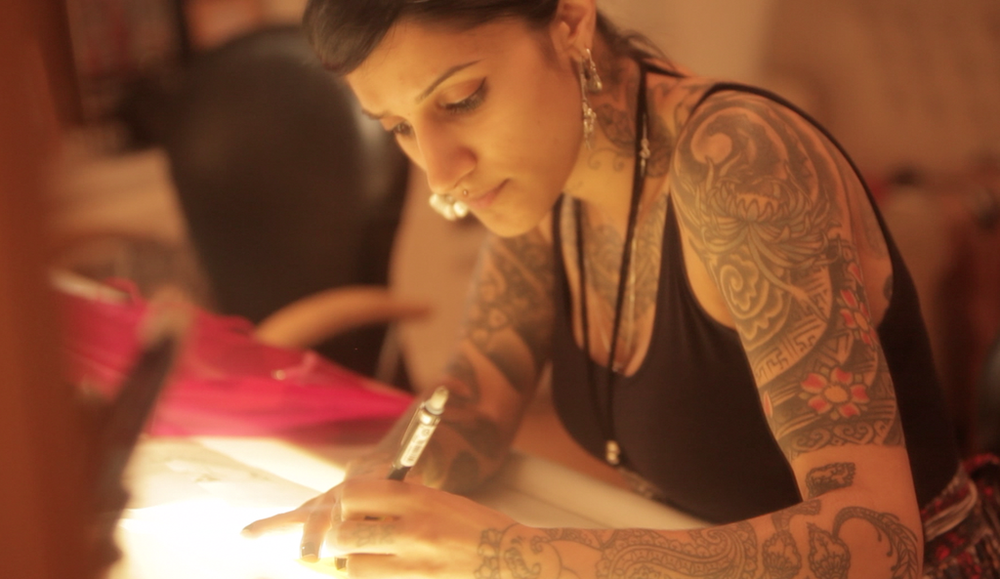 Highly influenced by her Indian Heritage and frequent trips to the country, Saira Hunjan's work often depicts images of nature, animals and goddess figures. Her medium of choice is ink, which she applied to both paper and skin; known internationally as 'The girl with the golden needle', Saira came to prominence in a career as a tattooist whilst studying fine art at Camberwell College of Arts. This experience helped her refine and transform her visual language for her creative practise, art work and collaborations.
The material chosen by Hunjan and the process in which she works, a deep transcendent connection achieved through mediation, allow her to translate her experiences into her own unique at work. Monochrome drawings allow the depiction of intricate details and are used to provoke a re-imagining of absent colours, consequently, each experience being personal and totally unique for her audience. In creating alternate ways of seeing, the work aims to blue the boundaries between ritual and reality, and the spiritual in a desire to bridge the gap between physical and metaphysical worlds.
Daniel was born and raised in Brisbane (Australia), but studied and graduated with BSc. Psychology (Oregon State University), and MA Documentary Film (UAL London UK). He has been living in Bali since 2015 with a focus on filmmaking as his direction.
Born in Korea, raised in the Southern US, residing in New York City.
Shawn is a designer + strategist currently focused on building tools and applications that inspire a decentralized, abundant future.
Inspired by nature, music, and the potential of human imagination.